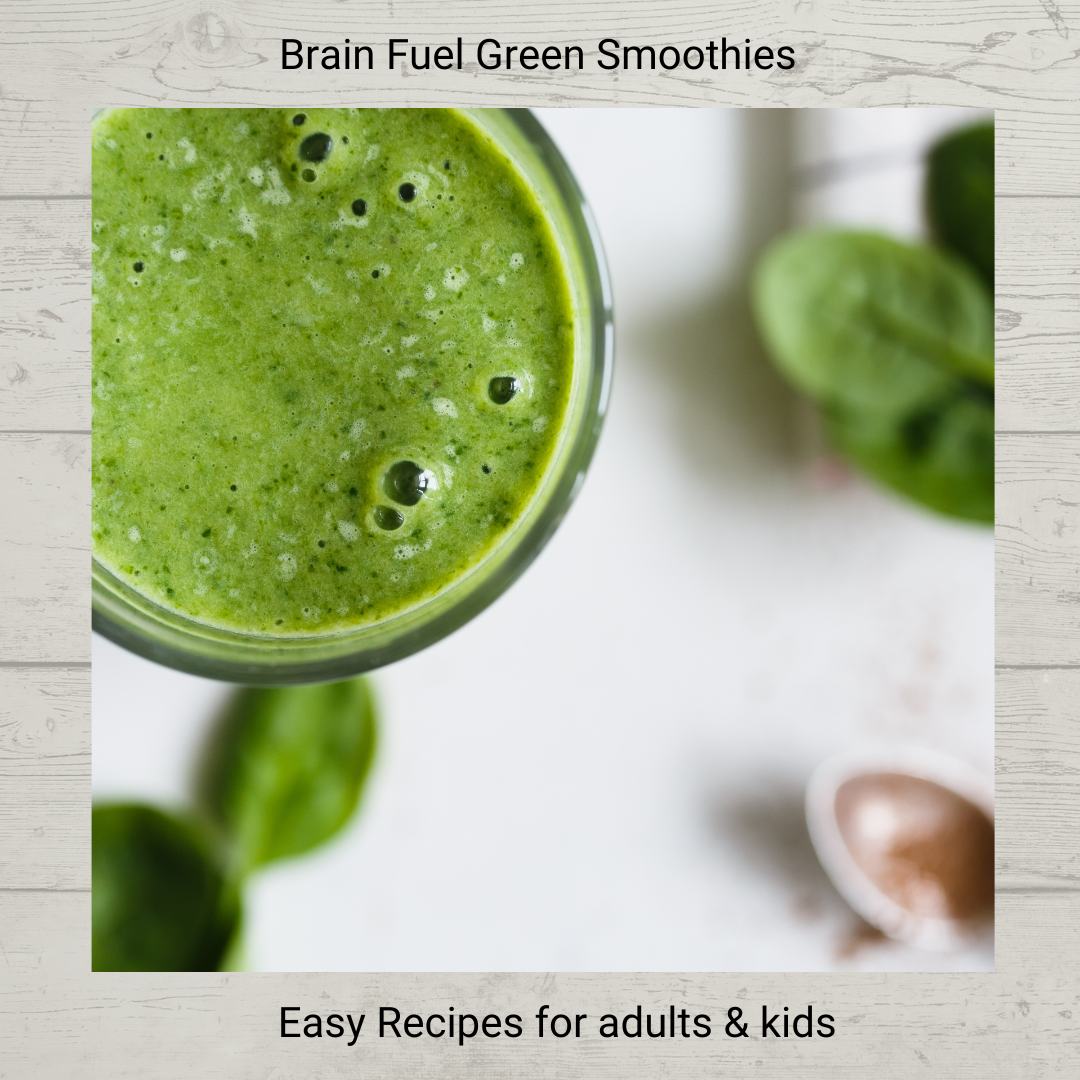 How to Make a Basic Green Smoothie - Fuel for the Brain
Pour one cup (or more) of water into a powerful blender.

Add protein powder.

Add chopped greens until the blender is full, and pulverize.

Add more greens to the blended greens and pulverize again.

Add cut up fruits in the combinations you think you will enjoy (suggested fruits are: apple, green banana, mango, and pineapple with mango) and pulverize again.

Add one to three tablespoons of coconut oil and briefly pulverize again.
Voila!  You now have a basic green smoothie.
A tablespoon of freshly ground flaxseeds (buy whole seeds and grind in a coffee grinder as needed) or whole chia seeds can be added to this smoothie. Adding a ripe avocado gives it a creamy texture and flavor. For a colder, frothier smoothie, add ice and blend.
Hint: If you or your family members or children are trying a smoothie for the first time, use very little greens and lots of fruit to avoid a strong greens flavor.

Do not add starchy vegetables to green smoothies. 
Starchy vegetables include: carrots, beets, broccoli stems, zucchini, cauliflower, cabbage, brussels sprouts, eggplant, pumpkin, squash, okra, peas, corn, and green beans. Starchy vegetables combine poorly with fruit and may produce gas.
Always rotate the green leaves that you add to your smoothies. Almost all greens contain minute amounts of alkaloids. Small quantities of alkaloids cannot hurt you and actually strengthen the immune system. However, if you keep consuming kale, spinach, or any other single green for many weeks without rotation, eventually the same types of alkaloids can accumulate in your body and cause unwanted symptoms of poisoning.
Green Smoothie Recipes
Easy Green Smoothie
8–10 oz water
2 handfuls of greens of choice
1⁄2 cup fruit of choice (low-glycemic)
1 tbsp of chia seeds or fresh ground flaxseed vegetable protein powder
Tastes-Like-a-V-8 Smoothie
2 cups water
5 kale leaves
1⁄2 avocado
2 roma tomatoes 3 garlic cloves Juice of 1⁄2 lime 1⁄2 tsp sea salt
Tropical Delight Smoothie
11 ounces water
1–2 handfuls of greens
Fruit from one young coconut 1⁄2 green papaya
1 cup pineapple
3–4 slices green banana
Very Veggie Blend
4 tomatoes
6 stalks celery
2 cucumbers
1 zucchini
Handful of chopped cilantro 1 small slice of red pepper 8–10 ounces of water
Kid-Friendly, Not Too Green Smoothie
3–4 slices of green banana
2 large rainbow chard leaves 1 heaping cup frozen cherries Enough water to blend
Blue Smoothie
2–3 slices of frozen green banana 2 cups blueberries
2 apples
1 stick celery
4 huge leaves of kale
3 cups of water (or more to assist in blending)